In a press conference that broke new ground for the amount of respect and appreciation on display, Jake "The Problem Child" Paul and Anderson "The Spider" Silva showed that fighters don't have to exchange insults to spread the word on a matchup that promises to deliver fireworks. (photos by Esther Lin)
The two sat for Monday's kickoff press conference to hype their mega fight on Saturday, October 29 at Gila River Arena in Phoenix, Ariz. live on SHOWTIME PPV contracted for eight rounds at a catchweight of 187 pounds. Paul and Silva even posed for photos together with Paul's brother Logan to recreate a snapshot the trio took 13 years ago.
Tickets will go on sale Wednesday, September 14 at 1 p.m. ET and can be purchased at ticketmaster.com, The press conference was hosted by former BELLATOR MMA and UFC world title contender and Silva rival Chael Sonnen.
A press tour that started Monday in Los Angeles at the NeueHouse Hollywood will continue Tuesday at the Gila River Arena in Glendale, Ariz., with both Paul and Silva taking center stage once again.
Paul has made no secret of his admiration for Silva, an MMA legend who holds the UFC record for the longest title reign in the organization's history (nearly seven years) and the most consecutive UFC victories (16) and has now successfully transitioned to boxing. Silva announced his return as a world-class boxer in June 2021 when he soundly defeated former middleweight boxing champion Julio Cesar Chavez Jr., via split decision that wasn't as close as the scores indicated.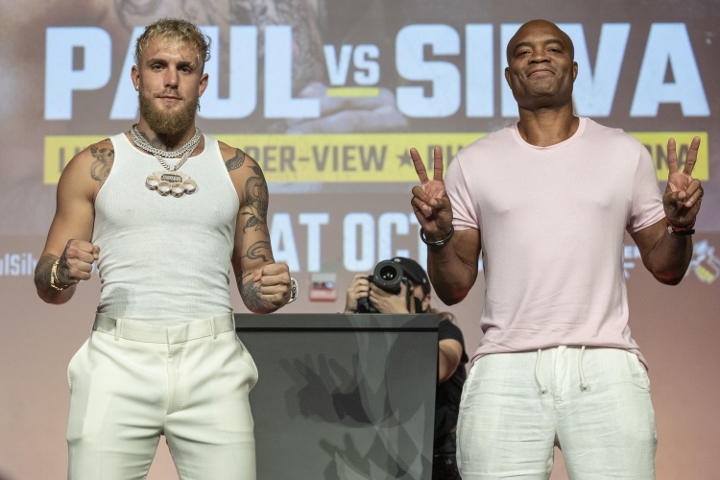 Silva has also voiced his appreciation for Paul and what he's been able to accomplish in boxing in such a short time. The Sports Illustrated 2021 Breakout Boxer of the Year, Paul last fought December 2021 when he recorded one of the year's most spectacular knockouts – a one -punch KO of former UFC champion Tyron Woodley in front of a sold-out crowd on SHOWTIME PPV. 
Despite the mutual admiration, Paul predicted the bout won't go past five rounds and pledged to get a spider tattoo if Silva wins on October 29.